Located 160 miles from Las Vegas, Zion National Park is the first national park in Utah. Stretched across 230 square miles in Southern Utah, a day is enough for touring this small national park. Escape the Las Vegas Strip scene by planning a Zion National Park day trip from Las Vegas with your family or friends.
Zion, the name of this national park, grabs the attention of many. Moreover, with the selection of breathtaking hikes, forest trails, and beautiful views of the Virgin River, Zion National park attract millions of visitors from every corner of the world. This natural reserve boasts beautiful sweeping canyons that tower red cliffs, spectacular hanging gardens, and meadows of wildflowers. 
Zion Canyon is one of the highlights of this national park, carved by a river. This 2,500 feet high and 15-mile-long trench ends to meet the lush natural habitat on the Colorado Plateau across the Virgin river.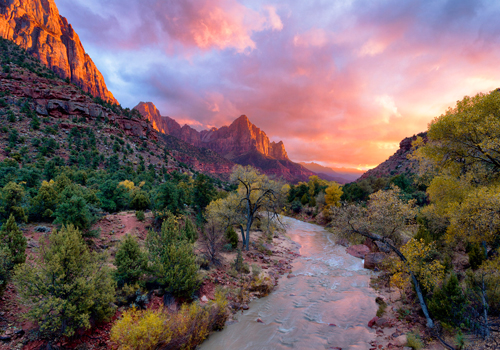 ZION CANYON BREWERY PUB
Quench your thirst at this first microbrewery in Southern Utah. Spot many microbrews within a hospitable and musical ambiance, where drinks served are ice-cold – perfect for calming the worked-up thirst of hiking. This brewpub is within walking distance from Cable Mountain Lodge and the Visitor's Center.
ZION OBSERVATION POINT
This is a perfect spot for passionate hikers and can be reached only on foot. It lies at an elevation of 6,500 feet above sea level and gives access to spectacular sparkling views of jagged canyons and valleys below. With a 2200-foot drop, this spot is easily accessible and one of the highest spots in the park.
Zion National Park Tour from Las Vegas
Zion National Park is one of the must-visit spots when visiting Vegas. Book a Zion National Park tour from Las Vegas and get ready to enjoy nature at its best. The drive to Zion National Park from Las Vegas is around 2.5 hours. Therefore, you get enough time to explore the destination when you book a Zion National Park Limousine Tour. 
To book Zion National Park Tour from Las Vegas at Crown LV, call (702) 861-0006.
Recommendation – Do visit the Lake Mead Recreational Area on the way. The artificial Mead lake has sparkling blue water fed by the Colorado River. Enjoy fishing, swimming, or simply relaxing or exploring the quietness of the area.