Graduation is an important milestone that showcases academic success, hard work, and dedication. This academic achievement deserves rewarding with grand celebration. We want you to graduate in one of our luxury limousines.
A graduation is a once-in-a-lifetime event, and you should not miss celebrating this scholastic accomplishment. The best way to celebrate this milestone moment is to rent a limousine. A graduation party limo is perfect for graduation ceremonies and after-parties.
Everyone would like to spend time with classmates on graduation day. These are some unforgettable moments you would want to treasure for a lifetime. For your memories, we have set photo ops at various locations in the city. We can also arrange for a professional photographer to capture these beautiful moments.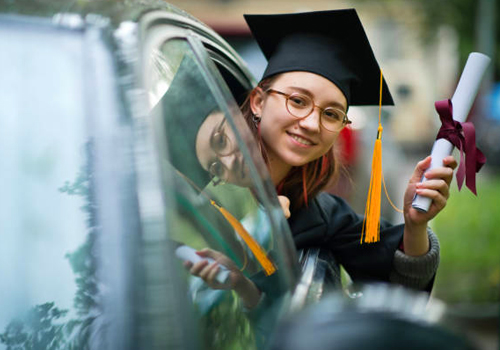 Graduation Limo Rental Las Vegas
Start your grand celebration with a impressive entry in a luxury stretch limousine. Make a lasting impression on your classmates with a stylish entrance. Limousines are super affordable when you do group traveling as the fare gets shared among all passengers.
We are sure you would want to spend more time with your classmates after the graduation ceremony. Limousines are perfect for after parties. For comfort and entertainment, our limousines are equipped with plush leather seats, stereo systems, TV and video systems, air-conditioning, etc. Hiring a limousine is a fun, safe, and inexpensive way to enjoy the post-academic euphoria. To book a graduation limo rental in Las Vegas, call (702) 861-0006.