The winner of over 300 national wine awards, Pahrump Valley Winery is located about 50 miles west of Las Vegas. The winery is Southern Nevada's best-kept secret and is a heaven for wine connoisseurs.
Pahrump Valley Winery Tour
Pahrump Valley Winery Tour is a 5-hour private limo tour. It is specially designed only for adults. It features FREE wine tasting from 10:30 AM to 5:00 PM (seven days a week). The trip begins with one of our chauffeurs picking you up in a luxury limousine. On the go, you will be enjoying a luxurious scenic drive from Las Vegas to Pahrump.
Once you reach the winery, you can explore the vineyard, walk around the winery, and indulge in wine tasting. You can also walk around the serene rose garden with its gazebo in the spring mountains. The level of service and the attention you will receive at this award-winning winery is always outstanding. This winery in the desert has a gift shop with almost all wine-related items. You can bring home a few items as souvenirs of your experience. You can also buy bottles of wine for gifting your friends/family. This desert winery has a gourmet restaurant called Symphony's.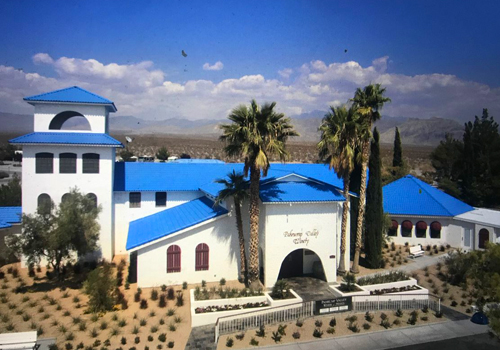 Symphony's is an award-winning upscale casual restaurant serving delicious and lip-smacking meals. It is rated 4.5 stars on Google and Tripadvisor. Do not wear sleeveless shirts, headwear, or flip-flops while going to the restaurant. You need a reservation for breakfast, lunch, or dinner at the restaurant. Visitors can book a table using the Open Table App or by calling 775-751-7800.
Pahrump Valley Wine Tour Las Vegas​
Pahrump Valley Winery Tour is perfect for celebrating bachelor and bachelorette parties. The tour allows you to indulge in wines without worrying about driving back home. The chauffeur shall take care of the driving and drop you safely at home. The tour offers door-to-door pickup and drops in a chauffeured premium vehicle.
Whether you are a wine buff or a first-timer, this tour will be a memorable experience. Check out our fleet and book a luxury vehicle of your choice today! For bookings, call (702) 861-0006.
NOTE: Red Rock Canyon comes on the way to Pahrump. You can also plan to visit this beautiful natural attraction while on the way to Pahrump Valley. Exploring both places in a one-day tour can be exhausting. Thus, we advise you to plan at least a 2-day trip.