Located about 280 miles from Las Vegas, the Grand Canyon National Park of Arizona is a UNESCO World Heritage Site. Spread in a large geographical region, the erosions of the Colorado River formed this national park. This place is excellent for planning picnics and getaways with friends and family.
Grand Canyon National Park
Close to the borders of Utah and Nevada, the Grand Canyon National Park lies on the Colorado Plateau in northwestern Arizona. Spread over 1,218,375 acres, this world heritage site has three entry points – two on the South Rim and one on the North Rim. Mather Point, Yavapai Point, Desert View, Grandview Point, Pima Point, and Hermit's Rest are a few viewpoints that offer scenic and magnificent views of the canyon.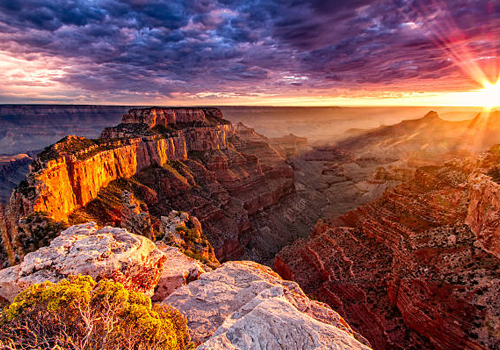 FLAGSTAFF – Famous for its nightlife, Flagstaff is the closest city to the Grand Canyon. It is surrounded by several refreshing mountains, deserts, and ponderosa pine forests. It can be your home base for exploring the canyon and other close-by attractions.
THE SKYWALK – Towering a height of 4,770 ft above sea level, the Skywalk is a horseshoe-shaped cantilever glass bridge with a glass walkway. Offering unparalleled views of one of the world's Seven Natural Wonders, this breathtaking 10-foot wide bridge extends 70 feet out over the rim of the Grand Canyon.
Grand Canyon Limo Tour from Las Vegas
If you are a visitor to Vegas, you should not miss taking a Grand Canyon private limo luxury tour from Las Vegas. The Grand Canyon excursions from Las Vegas take estimated 10 hours with no time spent at the destination. Covering the entire trip in a single day trip can be exhausting. An overnight stay at the Grand Canyon would make the tour soothing and enjoyable.
Recommendation – Don't miss visiting the Hoover Dam that comes on the way to the Grand Canyon from Las Vegas. It is a magnificent masterpiece of engineering that is less than an hour from the Strip.
Limo Service to Grand Canyon
Crown LV is a leading limo company offering Grand Canyon Limo Tours from Las Vegas. Hiring a limo service from Las Vegas to Grand Canyon is an ideal and economical option for group travel. To book this limo tour, call (702) 861-0006.