Las Vegas does everything to the max, and Christmas is no exception. During Christmas, you will see an explosion of festive lights, with all places having large flashing displays. Having shimmering Christmas trees outside each venue, you will find several activities happening in the city. It is the best time of the year to spend with your friends and family. Let us make this Christmas memorable for you and your family with our Christmas Lights Limo Tour.
During the Christmas holidays, the lights and sights of the city will attract you. These festive lights will make your celebration more enchanting. To explore the beautiful city lights, consider our Christmas Lights Limo Tour. In this 3-hour luxury limo tour, you will be exploring the best lights and sights of the city. The trip begins with a complimentary pickup of your group from a Las Vegas Strip Hotel. For pickup locations outside the Strip, we will charge you extra. During the tour, we will stop for about 20 minutes at each location. You are allowed to shop and click photos during these stops.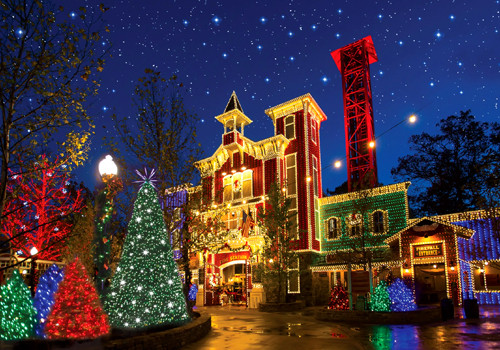 Holiday Lights Tour Locations
Note – If you opt for a site with a 2-hour minimum, it will be the only stop for the tour.
Christmas Lights Limo Tour
Celebration without drinks is incomplete. Feel free to bring bottles of your choice onboard. We already have ice and glassware in the vehicle. Traveling in a limousine allows you privately enjoy the festival with your pals. To ensure your holiday lights tour is memorable, book a limousine with Crown Las Vegas.
Crown LV offers luxury and hassle-free limo transportation services in Las Vegas. Hiring a limo is one of the best ways to see the city sights during holidays.